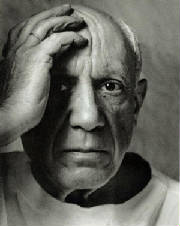 Pablo Picasso in Vallauris France, 1954. Arnold Newman.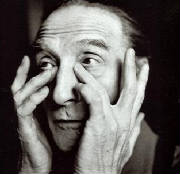 Painter Marcel Duchamp by Arnold Newman.
"We do not take pictures with our cameras, but with our hearts and minds."
- Arnold Newman
Arnold Newman is the master of environmental portraiture. He instinctively interacted with the people in front of his lens, placing them in carefully composed settings to capture their work and personality-- writers at their desks, painters in their studios, composers seated at pianos, presidents and prime ministers in stately settings. He said "I am interested in what motivates individuals, what they do with their lives, their personalities, and how I perceive and interpret them... perhaps of even greater importance, is that, even if the person is not known or already forgotten, the photograph itself should still be of interest or even excite the viewer. That is what my life and work is all about."
"I prefer the risk
of failure in experimentation
to the alternative of safe repetition and boredom.
"Rigid rules, regulations, official schools and current trendy 'with it' styles needed by the unimaginative are deadly to creativity.
"History is full of 'Golden Rules,' laws of composition and other indispensable guidelines. Yet not one great image has ever been created through their application. Style is a natural result, not an aim."
- Arnold Newman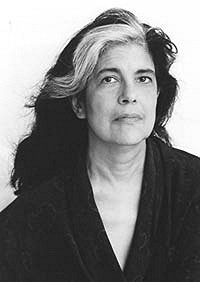 Susan Sontag (1933-2004)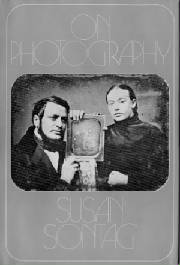 "On Photography," Susan Sontag, 1973, Farrar, Straus & Giroux.
"We consume images at an ever faster rate and... images consume reality."
- Susan Sontag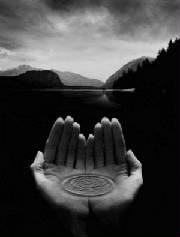 Jerry Uelsmann, Untitled 2003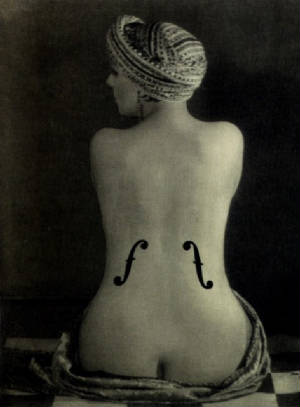 "La Violon d'Ingres," 1924. Man Ray put his spin on the nudes of the 19th century painter Ingres.
Man Ray pioneered the process of solarization.
Self-portrait, 1932.

"I photograph what I do not wish to paint and I paint what I cannot photograph."
- Man Ray
Photographers on the job doing their thing.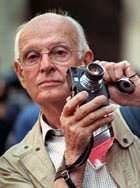 Henri Cartier-Bresson (1908-2004)
Perhaps the most influential photographer of the past century, Henri Cartier-Bresson waited for the "Decisive Moment," elevating snap shots to a refined and disciplined art. He said he "prowled the streets all day, feeling very strung-up and ready to pounce, determined to 'trap' life, to preserve life in the act of living."
In his global travels, with Leica in hand, he captured the spontaneous and unpredictable, telling a story crisply, in one striking image. He valued the brilliance of 'man facing his fate;' his sense of human dignity was essential to his work. He called the decisive moment "the simultaneous recognition, in a fraction of a second, of the significance of an event as well as the precise organization of forms which gives that event its proper expression."
Susan Sontag, probing writer and social critic, died on December 28. She had suffered from leukemia for 30 years-- and wrote of the struggle for health in one of her most famous books: "Illness as Metaphor." As her friend Leon Wieseltier (literary editor of The New Republic) said, "She showed you things you hadn't seen before; she had a way of reopening questions." She was a master synthesist who tackled broad, difficult, and ellusive subjects. . .
like photography.
Her stimulating book "On Photography" deserves a re-read. Describing a subject we take much for granted (especially in this age of the indiscriminate digitized snap) she shows how photography has deeply changed us and the way we view the world.
"My art is directed toward the inventive consciousness of the viewer. The viewer has to complete the cycle, has to project into it in certain ways. All the information is there, and yet the mystery remains."
-Jerry Uelsmann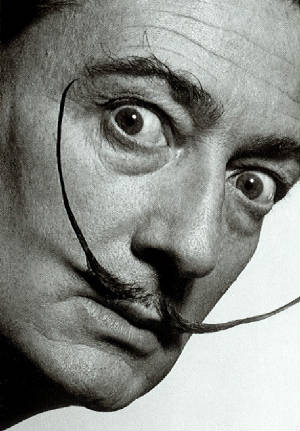 "But don't try to uncover my secret." Salvador Dali, by Philippe Halsman, 1954.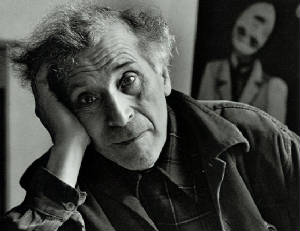 Marc Chagall, by Philippe Halsman, Venice, 1951.
Philippe Halsman (1906-1979) gained fame for his bold portraits and fashion photography after setting up his Paris studio in 1932. After the German invasion he couldn't get a visa to the U.S. because he was Latvian-born. Albert Einstein, who knew Halsman's sister, intervened with the authorities on his behalf.
Once in America he got a job with Life magazine, and over the next 20 years he shot more than 100 covers. His portraits of Einstein and Marilyn Monroe are classics.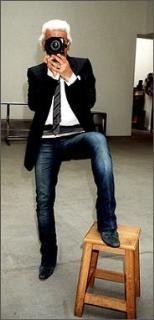 Karl Lagerfeld (1938- )
Karl Lagerfeld, sleek and pony-tailed, is known for his exacting demands as a fashion designer. He is an equally precise photographer who reveres the architecture of the human body and seeks the unexpected moment. His technique, lighting, and composition rival that of his most accomplished contemporaries. Among his published volumes are "Akstrakt," "Escape from Circumstances," Waterdance," and "Bodywave."
His eye for photography parallels a legendary design career. At 14 he moved with his family from Hamburg to Paris. Two years later he won a fashion design award working for Pierre Belmain. At 20 he worked for Jean Patou, then freelanced for Fendi, Valentino, and Cloe. By 1982 he was artistic director at Chanel-- updating the chic line with offbeat fabrics and colors. He launched his own KL label in 1984 and has also designed costumes for movies. He always keeps his camera close at hand.
"The only interesting answers are those that destroy the questions."
- Susan Sontag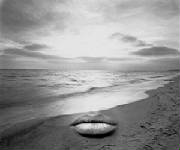 Jerry Uelsmann's "Silent Shore" at the Center for Photographic Art in Carmel