Great Performers
and Entertainers
Diana Krall / Mrs. Elvis Costello
"If I fell under the spell of your call I would be caught in the undertow. So you see, I've got to say No No; all or nothing at all."
It's the last verse in the Lawrence/Altman tune from 1939, and a keeper in Krall's repertoire. Well, she had to say yes to Elvis (they were married in December '03) and, happily, she has not been pulled out to sea.
Pianist Anthony Smith, who top critics consider the brilliant upstart on the jazz scene.



Reviews of Concerts,
Venues, and Acoustics.
Pianist Bill Charlap
The Bill Charlap Trio was the stand-out act at Seattle's Ear Shot Jazz Festival.
Experience Music Project, Seattle.
The love child of Paul Allen and rock 'n' roll is a must-see when you're in Seattle.



What tops your stack
of CDs, DVDs, LPs?
Have any 78s or 45s?
Recommendations
for the rest of us?
What's your system for organizing and storing your music media and downloads? Most of us need help. Can you give us advice?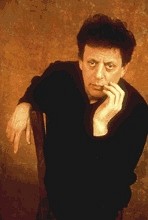 Composer Philip Glass
In January, the National Symphony Orchestra, conducted by Leonard Slatkin, performed the world premiere
of the "Toltec Symphony."
Composer Philip Glass found inspiration in the music of the Toltec people of central Mexico. The piece lasts a mere 30 minutes, a short 'sit' compared to his five-hour "Einstein on the Beach."