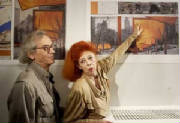 Christo and wife Jeanne-Claude planning "The Gates."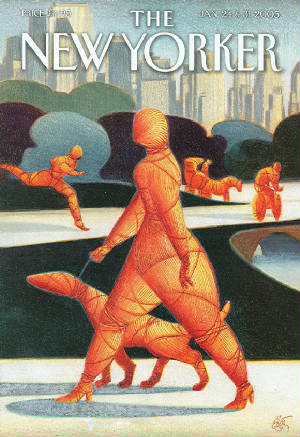 "Central Park Wrapped," New Yorker, January 24&31, 2005, Lorenzo Mattotti.
Ground Zero:
a work in progress.
Since the destruction of the twin-tower World Trade Center in 2001 there has been a continuum of meetings, press conferences, back room negotiations, pulic forums, and competitions leading to a plan for redevelopment. If you want to catch up with the action, you'll get a blow-by-blow chronicle of events in "Up From Zero," by Paul Goldberger, Random House 2004.
As he reports, it was to be "the first great urban-design problem of the twenty-first century." Not surprisingly, the public wants an emotionally-charged memorial. The developer, Larry Silvertein, wants more office rental space. Competing architects Rafael Vinoly and Daniel Libeskind snipe at one another. And the mayor and governor compete for the high-profile credits.
Goldberger concludes "What played out through 2002 and 2003 was the use of architecture for political ends, not the use of politics for architectural ends-- that is the key moral of the story...
"Idealism met cynacism at Ground Zero, and so far they have battled to
a draw."
Photos at top of page:
Left, winning entry. Right, World Trade Center and lower Manhattan seen from Liberty Island, 2000.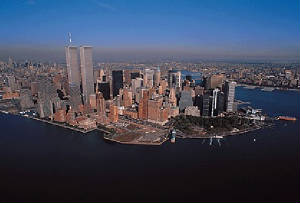 Lower Manhattan skyline, 2000.
"Blockhead 2003" at the Tate Modern
Donated billboards to roof hurricane-damaged homes in Florida.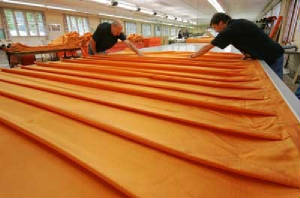 Here are the numbers:
"The Gates" opened in February, 2005. Two weeks later they were "whoosh" gone. There were 7,500 gates festooned with saffron-colored fabric panels along the walkways from 59th Street to 110th Street. The artists, Christo and his wife-collaborator Jeanne-Claude, financed the $20+ million project-- one which they first proposed in 1979, fighting red tape for a quarter of a century. With their friend Michael Bloomberg installed as mayor, they got the green light.
Documantarian Albert Maysles says "Christo considers human reaction a part of the art." The Gates was planned for February to create a visual river of gold appearing and disappearing through the bare branches of trees, highlighting the shapes along footpaths. Some New Yorkers had houseguests from Europe in town to see the billowing saffron.
Contractors with flatbed trucks and 31 forklifts distributied 15,000 steel bases along 23 miles of footpaths. The gates were 16-feet high separated at 12-foot intervals, holding 7,700 vibrant fabric panels.
Jeanne-Claude said "We create works of joy and beauty. We do not create messages. We do not create symbols... It will be gone, and then it will be 'once upon a time.'" The Christo creed is that art is good for nothing, except to be art-- albeit an uplift to the spirits of park-goers!
Christo and Jeanne-Claude, who wrapped the German Reichstage, hope to recoup much of their costs by selling drawings and photos.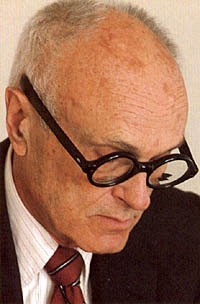 Philip Johnson
"Architecture is too important to be left to architects."
- Philip Johnson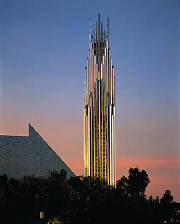 The Crystal Cathedral
left: one of many "largest-ever" inflatable sculptures by the artist Paul McCarthy in the Blockhead exhibit at the Tate Modern in London.
right: One of hundreds of murals in Los Angeles. This one is in Silverlake, by the muralist Annie Sperling Cesano. The city is loaded with public art. To see more click the link below.
"All our work is about freedom." - Christo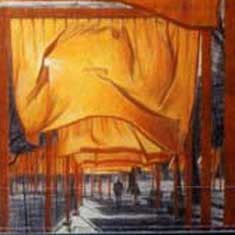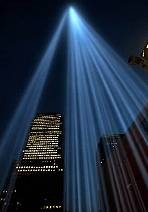 Light Show at Ground Zero
Elsewhere:
Paris at Midnight, December 31, 2004.
Philip Johnson's Crystal Cathedral
The work of Philip Johnson (1906-2005) is a jumpy guidebook to 75 years of architectural trends. Chasing or pioneering the nouveau,
it runs the gamut from his minimalist cube house in the Connecticut woods to Dutch gable roofs to a decidedly post-modern Chippendale-topped office tower in Manhattan.
Despite his iconic leanings his basic instinct was to design from the inside out-- to organize interior space. He once said he wanted to build "the greatest room in the world." He got his chance in Garden Grove, California with a commission from evangelist Robert Schuller to design a huge glass cathedral. With the help of seismic engineers and his partner John Burgee the job was completed and doors opened in 1980.
The mega-church is a mirror-glazed envelope with a footprint of nearly an acre of land. In his mind the Crystal Cathedral was his crowining achivement.
Johnson won the Pritzker Arcitecture Prize Laureate in 1979. A good source book on his thinking is Philip Johnson: The Architect in His Own Words, Hilary Lewis, Rizzoli, 1994.
"Thai Floating Market," in Los Angeles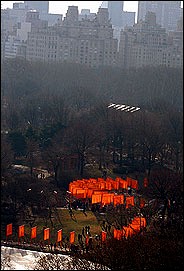 OPEN GATES
to visit Christo's online store (proceeds benefit Nurture New York's Nature and Central Park Conservancy)