"Elegance is refusal."
- Coco Chanel
Can it get more succinct? Acclaimed couturiere Chanel revolutionized how we dress by simplyfying, paring down, and removing any fuss of Victorian residue. Elegance was her by-word and she achieved it with knife-cut clean lines.
"Refusal" is the interesting part. An elegant dresser refuses excess by removing something 'extra.' An elegant jazz musician removes notes and riffs. An elegant writer removes adjectives. An elegant dancer says it all in one move.
A short quote shines with light-- and a bit of mystery. It leaves room for us to ponder and interpret. This one is also a 'definition quote.'
Other quotes in this category are: "War is hell." (Gen. William T. Sherman ), "Actors are cattle." (Alfred Hitchcock), "Publishers are demons." (William James), and "Civilization is paralysis." (Paul Gauguin). All are compact and memorable.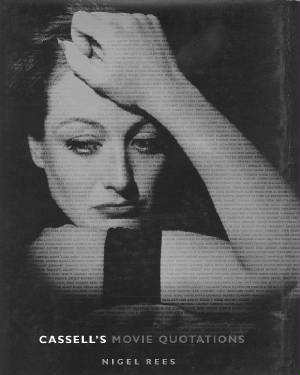 Cassell's Movie Quotations, Nigel Rees, Cassell, London, 2000.
Ardent movie-goers will be familiar with many of the soundtrack quotes (Michael Caine in Alfie: "What's it all about? Know what I mean?"), but happily Rees gives more quotes about movies than quotes from soundtracks. These 'extracurricular' quips, comments, and excerpts from printed interviews yield plenty of asides and colorful opinions. The verbal 'outtakes' of actors, directors, producers, screenwriters, and movie critics give this collection
Here are a few...
"It occurs to me that the only thing I ever liked to do was go to the movies. Naturally, sex and art always took precedence over the cinema. Unfortunately, neither ever proved to be as dependable as the filtering of present light through that moving strip of celluloid which projects past images and voices onto a screen."
- Gore Vidal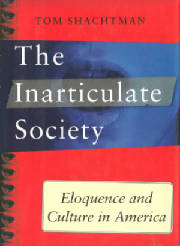 The Inarticulate Society, by Tom Shachtman, Simon & Schuster, 1995.
"Precise, perceptive, graceful, incantatory English
is disappearing from mass entertainment products. Literacy is in a real danger of being obscured,
if not eclipsed.
The prospects are real and frightening."
- Tom Shachtman
MOVIE AD SLOGANS from the Nigel Rees book:

"Never let the truth get

in the way of a good story." (The Paper, 1994.)

"A savage story of lust and ambition."

(Room at the Top, 1958.)

"Ancient Rome is going to the dogs, Robert Taylor is going to the lions, and Peter Ustinov is going crazy!"

(Quo Vadis, 1951).

"Don't give the ending away. It's the only one we have." (Psycho, 1960).

"Don't pronounce it-- see it!" (Ninotchka, 1939).

"The minx in mink with

a yen for men!" (Lady

in the Dark, 1944).

"When the hands point up--

the excitement starts!" (High Noon, 1952).

"No mortal could possess it! No kingdom could command it!" (Excalibur, 1981).

"A man went looking for America and couldn't find it anywhere!"

(Easy Rider, 1969).

"Being the adventures

of a young man whose principal interests are rape, ultra-violence, and Beethoven."

(A Clockwork Orange, 1972).

"We are not alone."

(Close Encounters of the Third Kind, 1977).



"Life is pleasant.
Death is peaceful.
It's the transition that's troublesome."
- Isaac Asimov
This quote is a triple: a rare find. Most well-known quotes are two-liners, or couplets. Here's another that fits into the category of a triple:
"A guy hit my fender the other day. I said unto him 'Be fruitful, and multiply.'
But not in those words."
- Woody Allen
Marshall McLuhan predicted that the ascendancy of the 'global village' would eclipse the few centuries of literacy.

"The only hope of recovery is to place language foremost in education." William Fowler
More movie talk...
"I did a picture in England one winter and it was so cold I almost got married."
- Shelley Winters
"The most expensive habit in the world is celluloid, not heroin, and I need a fix every few years."
- Steven Spielberg
"Every country gets the circus it deserves. Spain gets bullfights. Italy gets the Catholic Church. America gets Hollywood."
- Erica Jong
"A film is never really good unless the camera is an eye in the head of a poet."
- Orson Welles
"Every writer is a frustrated actor who recites his lines in the hidden auditorium of his skull."
- Rod Serling
"Several tons of dynamite are set off in this picture; none of it under the right people."
- James Agee (reviewing Tycoon)
"It was a cute picture. They used the basic story of Wuthering Heights and worked in surf-riders."
- Neil Simon (line from his play Last of the Red Hot Lovers)
"There used to be a me behind the mask, but I had it surgically removed."
- Peter Sellers
"I don't try to guess what a million people will like. It's hard enough to know what
I like."
- John Huston
"Strip away the phoney tinsel of Hollywood and you'll find the real tinsel underneath."
- Oscar Levant